Junior Football Camp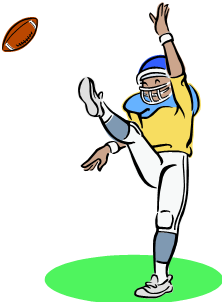 Grades 1-6
Introduce your child to football in a fun and enjoyable way with DHS Head Coach Rob Trifone. Your child will receive expert instruction and encouragement from Coach Trifone, many of his DHS players, and coaches from the Darien Junior Football League. Instruction will be complemented by games and fun-filled drills held on the turf field at the DHS Football Stadium. Help your youngster Catch the Blue Wave!
Choice of 2 Divisions:
SP610 Flag Football Division (Gr. 1-3)
SP611 Tackle Football Division (Gr. 3-6) *Must wear own equipment and should be signed up to play tackle this coming fall (registration for tackle begins in May).
Junior Football Camp (SP611 Tackle)
Sessions:
4
Dates:
6/24/2019 to 6/27/2019
Meeting Times:

Monday 5:30 PM - 7:30 PM
Tuesday 5:30 PM - 7:30 PM
Wednesday 5:30 PM - 7:30 PM
Thursday 5:30 PM - 7:30 PM

Location:
Darien High School Stadium Field
Instructor:
Rob Trifone
Grades:
3, 4, 5, 6
Fees:
$189.00 (Class Fee)

Note: Registration has ended
---
Related Class Offerings