Summer Academy III: 5th to 6th - In person
Entering grade 6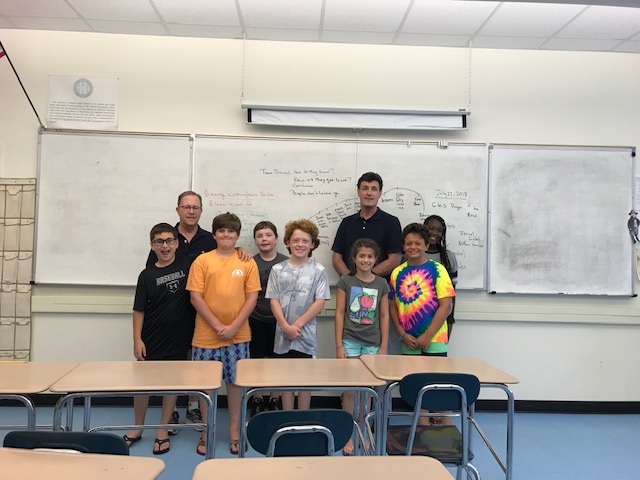 *This class is offered at 8:30am or 10:30am.
*The 8:30am class can be taken in-person or virtually. If interested in the virtual option, please register for the section labeled as such.
Do you want to be sure that your child's summer reading gets done on time? How about him/her getting a stronger grasp on math concepts? If so, please join our group for a head start on middle school. Our goal will be to complete all of the required reading for the start of sixth grade, leaving the rest of your summer wide open. We will also do a little writing and spend some time going over key concepts covered in fifth grade. Each morning, we will participate in a complete program of academics, presented in a fun and non-threatening way. Summer Academy III focuses on:

· Helping your child complete all summer reading, we'll do it together, no stress -- just lots of free time in August.
· Discussing literature with an emphasis on reading comprehension.
· Reviewing key concepts in math, including a peek at what's expected in sixth grade.
· Developing great study skills, including note taking.

Our goal: A confident child, ready for new academic challenges, and secure in their ability to succeed in middle school!
Summer Academy III: 5th to 6th - In person (O200B)
Sessions:
24
Dates:
6/28/2021 to 7/30/2021
Meeting Times:

Monday 10:30 AM - 12:30 PM
Tuesday 10:30 AM - 12:30 PM
Wednesday 10:30 AM - 12:30 PM
Thursday 10:30 AM - 12:30 PM
Friday 10:30 AM - 12:30 PM

Location:
Darien High School G203
Instructor:
Keith Satter
Grades:
6
Fees:
$399.00 (Class Fee)

Note: Registration has ended
---
Related Class Offerings