Lego-Oh!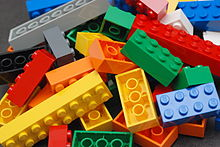 REGISTER BEFORE March 15 to receive $25 OFF!
Ages 5-10
Build things, over-and-over! Learn about volume, support, and aesthetics while being creative and having fun! Children collaborate on one large standing project, while working on their own individual creations.
Students may bring lunch as needed (20-30 minutes of each class will be devoted to lunch and warm-up activities).
Lego-Oh! (O917B)
Sessions:
4
Dates:
7/11/2022 to 7/15/2022
Meeting Times:

Monday 12:30 PM - 3:00 PM
Tuesday 12:30 PM - 3:00 PM
Wednesday 12:30 PM - 3:00 PM
Thursday 12:30 PM - 3:00 PM

Location:
Darien High School C108
Instructor:
Ivy Bound/Rising Stars
Grades:
1, 2, 3, 4, 5, 6
Fees:
$300.00 (Class Fee)

Note: Registration has ended
---
Related Class Offerings